Dokobit for telecommunications industry
In telecommunications industry, customer experience is essential to the moments that matter — from purchasing a service or signing agreements to logging in to self-service. Modernise customer experience and improve operational efficiency with Dokobit.
Featured use cases with Dokobit
Improve every stage of customer experience while maintaining security and compliance.
Online purchases
30% of online purchases are abandoned at checkout because consumers cannot remember their passwords. Boost your customer visits, on-boards or online purchases to your website with flexible, easy and passwordless logins using federated eIDs and save users the trouble of tedious registration forms.
Digital contracts
Customers expect to complete purchases and subscriptions from their home, in-store and online. Exceed their expectations by executing service agreements, terms and conditions, lease agreements and other on-boarding documents quickly regardless of location.
Self-service
Username and password based identification is vulnerable to security issues as databases with sensitive customer data can be breached. Adopting widely used eIDs in your self-service reduces risks of cybercrimes and fraud, and provides secure and unified customer experience across all e-services.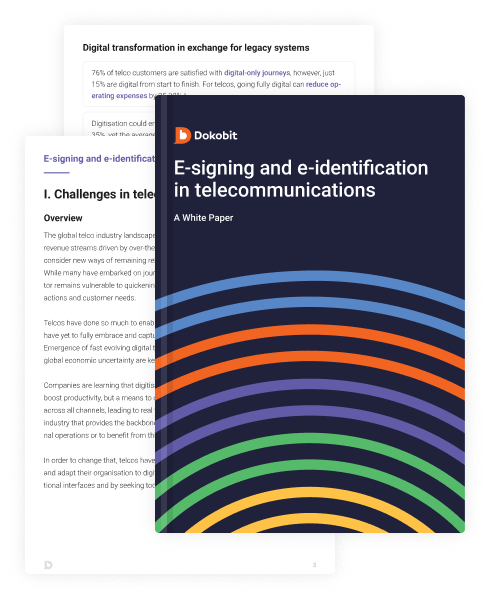 Telco services with Dokobit
The telco industry outlook is changing faster than ever. Destruction of legacy revenue flows driven by competitors continues, forcing operators to consider new ways of remaining relevant to customers. In the digital age when customers require 24/7 availability of services, in order to overcome these challenges telco players need to exceed customer demands to retain the client base.
Manage your changes with Dokobit. Download the white paper to learn how Dokobit can help your organisation stand out.
Access the white paper
Change the way you work
Ready to get started?
See pricing
Want to learn more?
Contact sales