Close deals in minutes, not hours
Feel like you're spending too much time tracking down customer signatures and too little time selling? When every minute counts, Dokobit is your key to success.
Every stage of sales cycle made easy
Collect approvals and signatures on all the most crucial sales documents in one place, without ever losing a thing or missing a deadline.
Sales proposals
Sales quotes
Sales orders
Delivery orders
Invoices
Sales receipts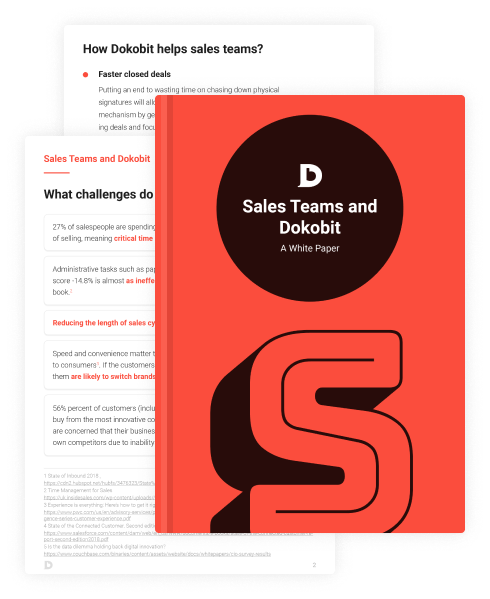 Sales with Dokobit
Signing a sales contract takes ages and thus leads to losing prospects? Administrative tasks steal your valuable time that you'd prefer to spend on selling? Facing a challenge to keep record of all the physical sales documents?
Liberate yourself from all this stress with Dokobit. Download the white paper to learn how Dokobit can help your sales department shine.
Access the white paper
---
Sales departments that already rely on Dokobit


Change the way you work
Ready to get started?
See pricing
Want to learn more?
Contact us