Dokobit for financial industry
Customer experience is essential to the moments that matter — from opening an account to applying for a loan. With Dokobit, create a modernised, fast and convenient on-boarding and agreement process that helps improve customer satisfaction and retention.
Featured use cases with Dokobit
Improve every stage of customer experience while maintaining security and compliance.
Knowing your customer
Financial institutions are often obligated to gather customers personal information for European banking transparency and money laundering prevention. While information is usually gathered at the bank branches, with e-signatures and e-identification it can easily and securely be done remotely. By using federated eIDs you are always going to know your customers' real identity.
On-boarding
For financial service providers e-signature and e-identification solutions allow to easily on-board customers using a Qualified Electronic Signature or any other notified eID scheme according to eIDAS regulation as required by law.
Lending
From mortgage to student loans, executing loan agreements digitally enables financial institutions to quickly meet customers demands and improve customer experience.
Leasing
Ability to remotely sign car, heavy vehicles and agricultural equipment, and other leasing contracts is especially convenient when signing three-sided agreements as there'll be no need for all the parties to waste time for meetings that usually are quite hard to set up.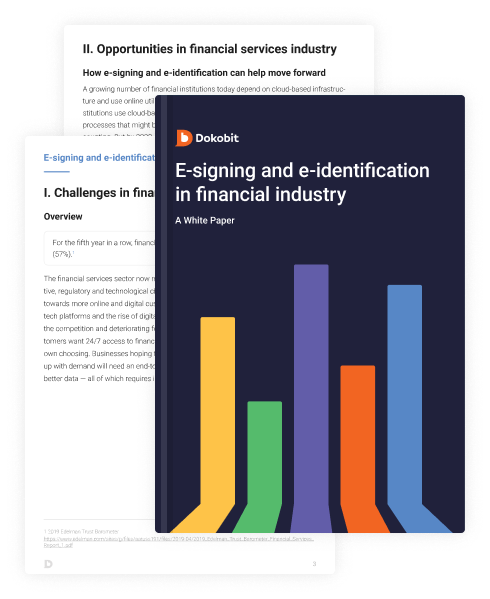 Financial services with Dokobit
The financial services sector faces competitive, regulatory and technological challenges. In order to overcome these challenges on top of figuring out how to move away from their old legacy systems, financial organisations must build an improved customer experience and use it as a competitive differentiator to retain their clients.
Manage your changes with Dokobit. Download the white paper to learn how Dokobit can help your organisation stand out.
Access the white paper
Change the way you work
Ready to get started?
See pricing
Want to learn more?
Contact sales